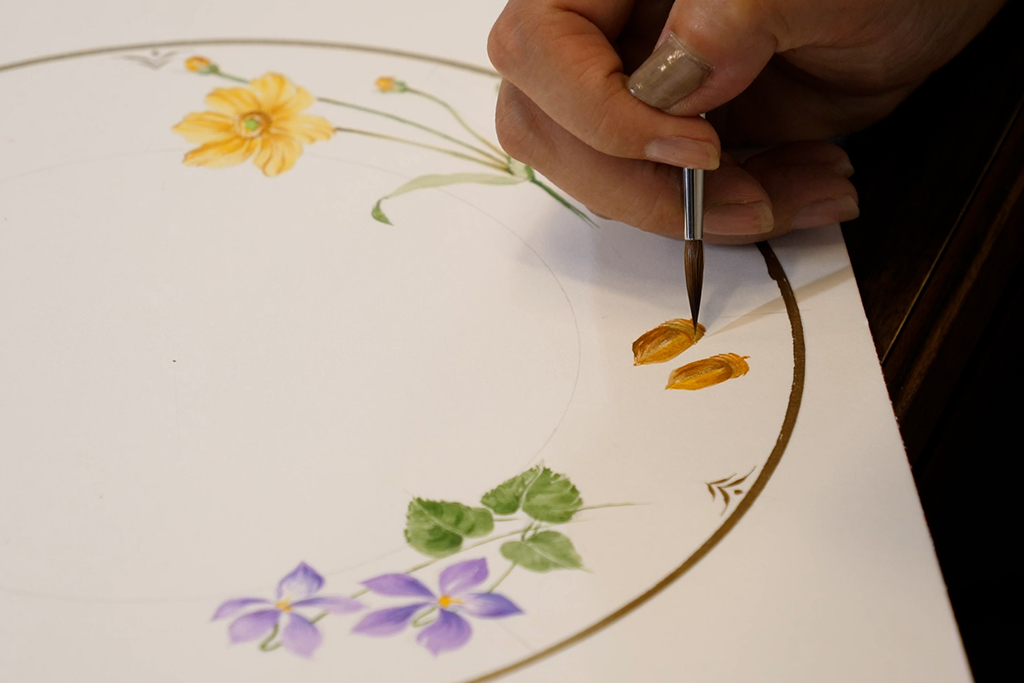 Eiko Ando – Porcelain Designer
Ms. Eiko Ando worked as a tableware designer for a significant ceramics manufacturer, designing tableware for hotels and restaurants in Japan and abroad. Since then, she has worked as a freelance ceramic designer on many projects. She is also a lecturer and a member of the "Nagoya DECOOMORI-tai", a group dedicated to preserving and passing on Nagoya's porcelain decoration technique, which is disappearing with the changing of the times.
This time, we are pleased to have an opportunity to show you a part of the demonstration which was held at Nagoya Ceramic Hall in July this year. The tableware theme sketched in this demonstration was "Plants", and the title was "Flowers and Berries, Acorns". She painted motifs of double-flowered roses, violets, Asteraceae flowers, raspberries, rose berries and acorns.
"When painting plant motifs, it is essential to be careful not to be too realistic, resulting in a tasteless copy of the plant."
So she tried to keep the soft curves of the plants and the characteristics of each plant while simplifying the arrangement.
"In this sketch, the red of the roses and the blue of the raspberries are used as accent colors, as they are almost primary colors. In addition, the length of the stems and the direction of the flowers of the plants are taken into account so that the motifs are arranged and there is no space or unevenness when food or dessert is served."
"Whenever I design tableware, I image scenes that they are used as good partners of dining tables and make people happy."